ntjetboater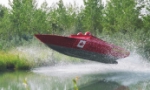 Joined: 15 Jun 2005
Posts: 401
Location: Land of many rivers
Posted: Wed Jun 29, 2011 4:31 pm

Post subject: WTB Lift Kit

---

Hey guys...I know alot of you in the south have or know of lifted trucks.
I have a 2009 Ram 1/2 ton that I want to lift before winter.
I think I am leaning more toward a suspension kit with new tires for the 20" rims.

Any pics and or advice is welcome.
Pro-Comp 6" ??
_________________
If you ain't hittin bottom you ain't jetboatin!