Tech Man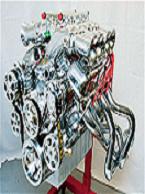 Joined: 12 Jul 2010
Posts: 46
Location: Peace River
Posted: Sun May 20, 2012 12:12 am

Post subject: WTB Bennett trim tab pump

---

Of course its the long weekend and after my boat turned into a tub last year on the Peace my jetavator pump has quit working. For some reason it doesn't like being submersed in a couple feet of water and I'm guessing it's a ball of corrosion in the motor of the pump. The solenoids are clicking but the motor doesn't turn.

I'm looking for a 12V Bennett trim tab pump assembly or if somebody knows of something else I can use for it.

Does Eagle have these in stock?

Cheers
_________________
There's no replacement for displacement!!!!!