Touchin Bottom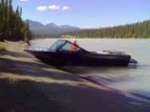 Joined: 06 Jun 2012
Posts: 28
Location: Edson AB.
Posted: Tue Jun 12, 2012 10:48 am

Post subject: Mcleod River Boat Launches

---

From Edson go east on Hwy 16 to Peers Hwy 32, head north past town site of peers to Mcleod bridge, on the north side, on the right is a good boat launch and in shallow water you can still launch from the gravel bar.
Another launch site is beside the Rosevier ferry, you can find this by Heading East on Hwy 16 from Edson to the Rosevier Road (approx 12 kms), head south and follow to the Ferry. You can launch from either side at the ferry croosing.
_________________
1997 19' outlaw, Delta pad hull, 351w/RV cam, holley 750 double pumper, full camper top, 50mph, jetovater. Its all about touchin bottom.