Lost-In-Mx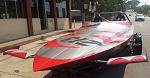 Joined: 23 Oct 2010
Posts: 12
Location: Mexico City
Posted: Sun Jul 10, 2011 11:30 am

Post subject: Thank you!

---

Thank you Racingfan. Many of us have been following this forum to check out the results every day.
We appreciate the effort.
_________________
www.motonauticamexico.com
"Always do sober what you said you'd do drunk. That will teach you to keep your mouth shut." - Hemingway.