Lost-In-Mx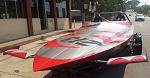 Joined: 23 Oct 2010
Posts: 12
Location: Mexico City
Posted: Fri Mar 14, 2014 12:52 pm

Post subject: MORE INFO....

---

MORE INFO ABOUT THE RACE.

• In order to assist international teams, we have secured plenty of hotel rooms at every stage.
• We will also transport airplane or jet fuel to strategic race sites, which will be purchased for you in advance in 200 litre increments (55 gal approx.). All you have to do is wire the funds to us and it will be ready for you at your arrival. Pump fuel up to 92 octane is readily available at local gas stations.
• Driving from the Laredo, Texas border is safe and easy. Most of the 1,837 km (1,141 miles) are on 4 lane divided highways that are in good condition. Most highway patrolmen are bilingual English/Spanish and there is free assistance for breakdowns courtesy of the National Tourism Board ("Angeles Verdes").
• For those who are concerned about safety, It´s important to highlight that everyone will be traveling in areas that are basically free of any kind of violence or danger. As far as the states of Tabasco and Chiapas where the race will take place, we have never heard of any problems in this regard. All of us travel on the same roads throughout the year towing our races boats without incident.

We are excited about hosting the World Championship in Mexico and look forward to the opportunity of showing our guests a great time. Mexicans are warm and friendly people who welcome tourists from all over the world. Please let us know how we can help you. It will be our pleasure to be of assistance.

Best regards,


Charles Large G.
Presidente
Motonáutica Deportiva México, S.A. de C.V.
Ibsen 108 Col. Polanco
México 11550 D.F.
Tels. (55) 1579-9041 / 43
_________________
www.motonauticamexico.com
"Always do sober what you said you'd do drunk. That will teach you to keep your mouth shut." - Hemingway.