ntjetboater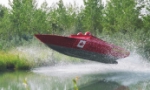 Joined: 15 Jun 2005
Posts: 401
Location: Land of many rivers
Posted: Mon Mar 07, 2011 2:05 pm

Post subject: Remote Site IT and Email

---

Hello All
We are currently 25K out of town and require reliable IT services.
What are my options ?
We currently use a Radio to Radio for connection but I find it drops too often throughout the day to do business with and it is painfully slow.

This would be for around 5-8 employees who mainly require email but need to log into servers in town to do AR or AP.

Satelite(pros and Cons)

IT Stick (Too expensive?) and need cell service

Radio to Radio (weak Signal drops to often?)

other option ??
_________________
If you ain't hittin bottom you ain't jetboatin!